Wellness Clinic Offers
Myotherapy in Melbourne for Effective Pain Relief
Myotherapy translates to 'muscle therapy' and refers to a form of massage developed in the 1970s by American fitness pioneer Bonnie Prudden. The practice has since evolved into a diverse discipline of numerous techniques. Myotherapy is effective as a preventative and corrective therapy and a rehabilitative treatment after muscular damage.
Myotherapy is a form of massage that restores the correct functioning of soft tissues in the body, such as muscles, ligaments, and tendons. A myotherapist may practice multiple massage techniques simultaneously to help relieve pain and discomfort associated with various underlying musculoskeletal conditions. Melbourne Road Health Group offers effective myotherapy in Melbourne and surrounding suburbs to help improve your muscular function and feel your best again.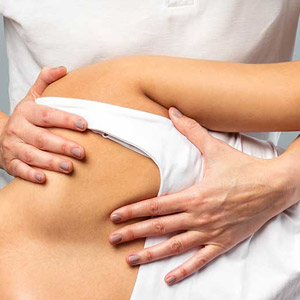 How is Myotherapy Performed?
Myotherapy is a form of remedial massage that is an international practice, and our clinic has brought myotherapy to Williamstown and other areas in Melbourne. The procedure varies across the world because your needs are unique to your lifestyle. Today, there is a broad range of myotherapy techniques available to target specific concerns. Our talented therapists are experienced in the following massage styles.
Trigger point therapy.

This technique targets specific zones in the body known as trigger points to help reduce muscular discomfort. Trigger points are tight areas of muscle that often cause chronic pain. Microscopic changes to muscle fibres form them, most commonly in your neck, shoulders, and back. Your myotherapy practitioner can help release the tension build-up in the trigger point through massage or dry needling.

Myofascial cupping.

This soft tissue therapy involves placing decompressed cups onto the body to release muscular tension. The cups create a vacuum and lift the underlying connective tissue towards the surface of the skin. The massage therapist may move the cups around or target specific areas by leaving the cups over a pain point. Myofascial cupping can help to increase blood circulation and drain your lymphatic system of harmful toxins.

Joint mobilisation.

Your therapist will carefully move your arms or legs to exercise specific joints and help to improve their mobility. During joint therapy, you sit or recline in a comfortable and relaxed position while the therapist exerts gentle pressure on parts of your body such as ankles, elbows, and knees. This therapy helps to increase the range of motion in your joints and reduces chronic pain.
The Benefits of Myotherapy Massage
There are numerous health benefits associated with myotherapy. From Yarraville to Bayswater, stress levels in Melbourne are high, and chronic muscular pain is increasing. Myotherapy helps your muscles and underlying tissues to relax and release built-up tension. We can tailor our treatments to suit anyone's needs. Here are some benefits of myotherapy massage.
Increases your range of motion.

Myotherapy can help to ease pain and inflammation around your joints that may hinder your movement. Our therapists are trained in identifying and treating joint pain associated with arthritis and injury. We can help you to move comfortably and confidently again through regular massage.

Alleviates chronic pain.

Backache, headaches, and shoulder pain are concerns that our trained practitioners often help to alleviate. Pain may arise from poor posture or exercise that places excessive strain on your muscles. A dull, aching sensation could indicate myofascial tension that we treat with cupping, dry needling, and trigger point therapy.

Improve recovery time after exercise.

As an athlete, you constantly place your body under stress, and you must release unwanted tension from your muscles after exercise. Our massage therapists offer regular preventative treatments to improve your muscle function and prevent future sports injuries. Myotherapy can also help reduce recovery time after surgery.
Why Choose Melbourne Road Health Group for Myotherapy Massage in Melbourne
We first introduced our patients to myotherapy in Spotswood over twenty years ago, and our clinic has since grown into a trusted name in holistic health and massage. Our experienced team of therapists is dedicated to serving our clients with professionalism and excellence. Our wellness centre is conveniently located for improved access to myotherapy in Newport and other western suburbs of Melbourne.
Contact our friendly team to start prioritising your well-being today.